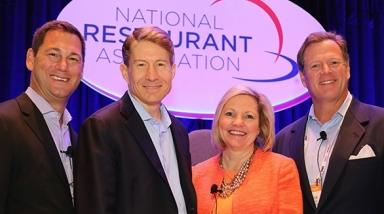 Fast-casual executives recently shared insights about what makes for successful concepts, from taking a quick survey upon entering any restaurant, to knowing what keeps loyal customers coming back.
The executives offered their ideas during the Fast Casual Industry Council gathering, held in May during the NRA Show in Chicago.
The panel included: Geoff Alexander, moderator and managing partner of WowBao; Doug Pendergast, former CEO of Quiznos; Carin Stutz, chief operating officer of Red Robin Gourmet Burgers and Brews and its 11-unit fast-casual Burger Works chain; and Patrick Sugrue, CEO of Saladworks.
Leadership challenges abound, even in the relatively strong fast-casual category, they said. "It's not a robust environment for any segment of the industry right now, not even fast-casual," Stutz said.
But the executives said they had found ways to elevate their restaurant brands. Here are five shrewd takeaways from their discussion:
1. Practice the "hot shot" rule. In her time at McAlister's Deli and its parent, Focus Brands Inc., Stutz said she learned she could more easily challenge herself and the status quo by employing the following exercise:
If restaurant leaders felt they had hit a plateau, Stutz suggested they might ask themselves: "If, for whatever reason, you left your position and they hired a hot shot to come in and take your position, what would he have the courage to do that I have laid low on?"
After answering the question, Stutz said, "Then I'm ready to step up and challenge myself to make the courageous decisions to be the best leader for the brand."
2. Build trust with franchisees. Pendergast, who has since stepped down as CEO of Quiznos, said trust is capital that requires careful tending among all the brands' participants, from franchisees and vendors to team members. He said: "The cautionary tale is: It takes a long time to establish. But once it's broken, it's quite difficult to repair." He advised approaching and communicating brand decisions with transparency and openness with all audiences.
3. Know your core audience and work carefully to expand it. Sugrue of Saladworks said the 100-unit chain has a loyal core audience, with 20 percent of customers patronizing the brand 17 times a month. "With that kind of loyalty, we have a real responsibility to continue to offer and revive everything that made them love this concept," he said. Saladworks' customer base is heavily concentrated among Gen Xers and Baby Boomers, and not Millennials, which the company is trying to change.
Saladworks restaurants needed to be refreshed, Sugrue said, which provided an opportunity to make them appealing to younger customers.
"We're working on queuing, because while the current consumer likes the opportunity to go by this salad case and pick out the items, … the Millennials have no need for that interaction frankly. What they really want to do is they want to put their order in, pick it up, sit down, plug their phones and reconnect with their emails," he said.
In the Saladworks remodels, the company also installed electronic charging stations and USB ports. "We're getting great reviews on this," he said.
4. Technology can make fast casual easier, but it's expensive. "I've never seen such rapid change as I'm seeing today," Stutz said. "Now you have to ask yourself: Can high-touch — the hospitality side — and high-tech coexist?"
Seamless technology is difficult in achieving the goal of "frictionless experi