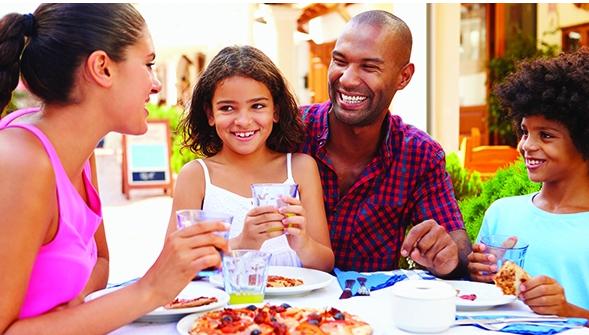 Hispanic consumers go to restaurants more than non-Hispanic customers, according to data from global market research firm The NPD Group.
According to NPD CREST Hispanic data, Hispanic customer visits to restaurants rose 1 percent in the year ended March 2016, while the balance of the U.S. population's visits were flat.
There's a huge opportunity — one that few restaurant operators have yet to capitalize on — to attract this quickly growing population, says NPD.
"Hispanics are increasing visits to restaurants," said Bonnie Riggs, restaurant industry analyst at NPD. "I don't think [operators are] doing enough to satisfy them and their needs."
Those visits largely occurred at quick-service restaurants, mostly major chains, NPD found.In the year ended December, "English-oriented" Hispanic consumers made 161 per capita visits to quick-service restaurants, according to NPD. NPD defines this group as those customers who identify as Hispanic, but who speak English as a primary language at home. This group primarily uses English-language media.
"Spanish-oriented" Hispanic customers made 159 per capita visits, while non-Hispanic customers made just 150 per capita visits. NPD defines the "Spanish-oriented" Hispanic group as those people who speak Spanish primarily at home and use Spanish-language media more than English-language media.
The data also reveal that brand recognition and ease of ordering are among the drivers of Hispanic customers' visits.
While they visit restaurants often, NPD found that Hispanic consumers aren't as satisfied with their visits as non-Hispanic customers are. Though they rated foodservice higher than non-Hispanics, "Spanish-oriented" Hispanic customers rate aspects of service, such as pleasant/friendly service, accuracy of order and responds to problems, lower than non-Hispanics.
Many chains are launching menu innovations, inventive community events or Spanish-language marketing campaigns to grow visits from Hispanic customers. Executives fromWhataburger and Native Grill & Wings shared how they are speaking to — and winning over — Hispanic consumers.
Native Grill & Wings: Focus on family meals
The average percentage of Hispanic customers at Native Grill & Wings locations is 31 percent, with some locations as high as 83 percent. So, appealing to Hispanic customers was a no brainer for this 30-unit chain with restaurants in Arizona, Texas, Montana and South Dakota.
"We are all about producing the right thing to the right demographics, " said Cynthia Velasco, marketing manager for Native Grill & Wings.
Hispanic customers NPD surveyed said they aren't finding enough of the flavors they crave on menus. Respondents said they are seeking more citrus (lemon/lime, orange), a Mexican/Latin/Spanish flavor influence, cilantro, jalape?o, chocolate, healthful options, and hot and spicy flavors. Hispanic customers also indicated that they are not happy with the choices and quality of beverages on menus.
Native Grill & Wings has long targeted menu items that appeal to Hispanic customers' tastes, such as Jalape?o Wings, Habanero Mango Wings and Honey Chipotle Wings, and continues to keep Hispanic consumers top of mind when testing new products