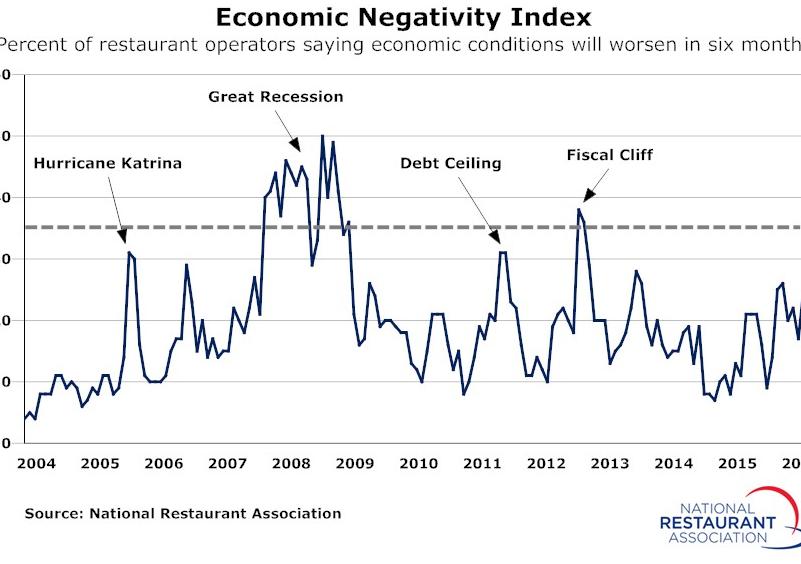 Job growth rebounded in June from May's dismal performance, according to preliminary figures released today by the Bureau of Labor Statistics. The economy added a net 287,000 jobs on a seasonally-adjusted basis in June, which was a solid improvement over May's downward-revised gain of 11,000 jobs.
With last month's employment report originally showing a net increase of only 38,000 jobs, it led many to wonder if the economic expansion was about to stall. After all, May represented the third consecutive month of slowing job growth, and the reported increase was the weakest in nearly six years.
For their part, restaurant operators' sentiment about the economy was lukewarm even before May's lackluster employment figure. In fact, in each of the last seven iterations of the National Restaurant Association's monthly Tracking Survey, restaurant operators had a net negative outlook for the economy six months out.
In the June 2016 Tracking Survey, only 12 percent of restaurant operators said they expect economic conditions to improve in six months, while 25 percent said they think conditions will worsen. The other 63 percent expect economic conditions in six months to be about the same as they are now.
While the recent outlook has certainly been a mixed bag, it is not quite bearish enough to signal that a recession is on the horizon. Dating back to its inception in 2002, this question in the NRA's monthly survey of operators has been a reliable leading indicator of a recession. However, history tells us that we would need to see negative economic sentiment of at least 35 percent to reach that tipping point.
As the chart below shows, restaurant operators' economic negativity jumped in 2007 prior to the Great Recession, with more than 40 percent of operators saying they expected economic conditions to worsen. Negative sentiment remained elevated until early-2009, when restaurant operators started to anticipate improving conditions.
Other than that sustained period, there were only three other times since 2002 where restaurant operators' economic negativity even rose above 30 percent: the fiscal cliff crisis in 2012; the debt ceiling crisis in 2011; and Hurricane Katrina in 2005. Each of those were only brief spikes until the situation stabilized.
Restaurant operators are on the front line of the U.S. economy, and are often the first to notice any changes in consumer behavior or economic conditions. With that in mind, operators' current level of concern about the economy does not suggest that a recession is imminent.
Note that the June reading of operators' economic sentiment was taken before Britain's vote to leave the European Union. While there will likely be some continued market volatility in the short-term, our baseline forecast does not call for a significant negative impact on the U.S. economy. Stay tuned to the Economist's Notebook in the months ahead to see if restaurant operators agree with our assessment.