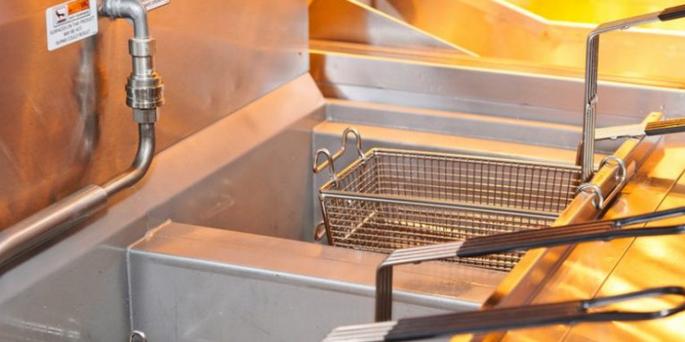 America's love affair with fried foods has long been an impetus for maintaining sound back of the house procedures to keep employees safe by mitigating the risk of injuries from frying oil. Foodservice accounts for the highest number of burns of any employment sector, about 12,000 annually, according to The Burn Foundation. Teens are particularly vulnerable in fast food restaurants where their inexperience and the pressure of delivering food quickly can pose a risky combination. With frying oil temperatures sometimes reaching 500 degrees Fahrenheit, it's no wonder insurance companies are taking a hard look at what goes on in foodservice kitchens from coast to coast.
A research study from Restaurant Technologies, industry experts in the management of fryer oil, found the average risk for a restaurant is $46,000 per year primarily from the three most common types of injuries — strains and sprains; slips and falls; and burns and cuts. The survey also found 60 percent of workers' compensation claims in restaurant kitchens are linked to frying oil.
"One would think that burns are the top safety issue, because you almost never see a back of the house employee without some level of burns, but injuries from lifting are actually more common," says Tina Swanson, vice president of customer experience for Restaurant Technologies. Swanson says lifting 35-pound jugs of frying oil is often the culprit.
"These accidents that can result in soft tissue injuries and back strains can result in extremely high medical costs plus wage replacement" she says Restaurant Technologies' research shows sprains and strains on average are the most expensive claims which average $156,993 if resulting in a permanent disability.
Monterey, Calif.-based restaurateur and owner of the famed Sardine Factory, Ted Balestreri, says it's important for kitchens to keep a close eye on the temperature of the oil."And if a fire does break out — make sure you don't throw water on the oil."
Balestreri also points out it's imperative to keep fire extinguishers in close proximity to fryers. Amsterdam Falafelshop is a top-it-yourself, seven-unit fast casual falafel eatery based in Washington, D.C., that uses plenty of frying oil in its daily operations. Arianne Bennett, the founder of the 12-year-old concept, says splashing hot oil is a major concern.
"Since we drop Falafel Balls live into the oil, we are always careful of the distance traveled between the item we are dropping and the oil itself, so that there is no splashing," she says. Bennett says new employees train for three days, and that time is paramount to kitchen safety. "Every restaurant should function with completely intact and operational equipment to avoid any accidents, but training is more important than anything in the workplace," she says.
Swanson agrees that training is crucial and says Restaurant Technologies' closed-loop system takes employee risk out of the equation by automating the entire oil adding, filtering and disposal processes.
"Our mission is to get operators to understand the importance of running smarter, safer kitchens," she says, adding it's especially important given the fact an average kitchen goes through 300 pounds of oil each week which means that they will need to add fresh oil, filter that oil, and dispose of that oil multiple times within that week. Without an automated system, this is a hands-on, dangerous process.
Other important safety precautions for keeping oil injuries to a minimum include:
Never store oil near any gas or electric equipment.
Train employees how to maintain the right level of oil in fryers at all times a