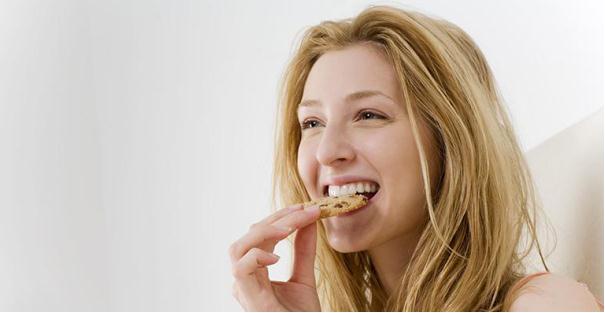 More consumers are eschewing lunch in favor of an afternoon snack
Consumers are saying later to lunch as they increasingly make more visits to restaurants during the afternoon snack daypart, at the expense of the mid-day meal.
According to the The NPD Group, visits to restaurants during snack occasions rose 3 percent in the year ended September 2016. Meanwhile, visits to restaurants at lunch fell 2 percent. Breakfast slowed, growing just 1 percent, and dinner was flat.
"Snacking is growing at restaurants," said NPD analyst Bonnie Riggs. "Afternoon snack is the strongest-performing meal occasion for the year."
Nearly half of all snack visits occur in the afternoon, NPD found. Morning snack represent 23 percent of the snack market, and evening snack accounts for 30 percent of all snack occasions.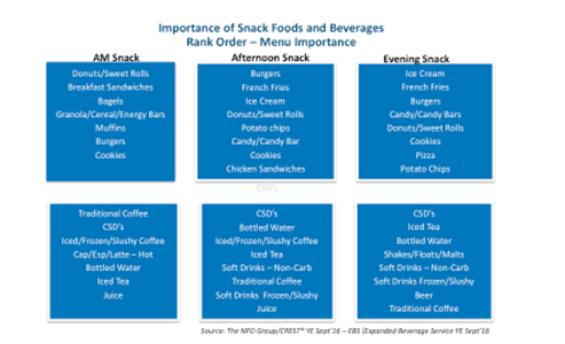 "With so many snacks occurring in the afternoon, the meal occasion that is most vulnerable is lunch," Riggs said. "What we're seeing now is trade-down from lunch."
While consumers might not be eating lunch at restaurants as often, they are increasingly ordering lunch foods as snacks.
In the year ended September 2016, the menu item ordered most often as an afternoon snack was a burger. Chicken sandwiches were also among the items most often ordered as an afternoon snack, along with traditional snack favorites such as French fries, potato chips, candy/candy bars and cookies.
During the same period, the beverages ordered most often as an afternoon snack included carbonated soft drinks, bottled water, iced/frozen/slushy coffee, iced tea, soft drinks (non-carbonated), traditional coffee, soft drinks/frozen slushy, and juice.
The fastest-growing snack throughout the day is the breakfast sandwich. The popularity of breakfast sandwiches has increased by double digits across all meal occasions, NPD found. The success of this item can be attributed, at least in part, to the introduction of all-day breakfast at McDonald's, Riggs said.
"There's an opportunity for [operators to offer] more variety, more main-meal food being positioned as a snack," Riggs said.
Snack hacks
With a growing number of consumers co-opting lunch items as afternoon snacks, some operators are responding by repositioning or promoting existing menu items as snacks, or considering adding unique snack items to their menus. Executives from Coeur d'Alene, Idaho-based Pita Pit and Los Alamitos, Calif.-based Mighty Kitchen shared their snackable offerings, and how they are preparing to pivot to meet the snack demand.
Pita Pit
Earlier this year, Pita Pit, the 250-unit quick-service chain, rolled out a smaller version of its signature pita sandwiches systemwide. The mini sandwiches are designed to offer customers a lower-calorie, lower-priced option, encourage sales of side items and increase average check. They also have strong appeal to afternoon snackers.
"I do think it's predominately an afternoon visit," said Patrick O'Dell, Pita Pit director of brand marketing. "It's something that's a little less heavy."
While the mini pitas may be accidental snack favorites, Pita Pit plans to focus more intentionally on the growing snack opportunity, O'Dell said. For example, later this year the chain plans to feature pita chips paired with a choice of one of 16 sauces or spreads as a snacking option. To make snacking even easier for customers, the chain is also developing proprietary packaged pita chips.
Mighty Kitchen
The menu at Mighty Kitchen, Hofman Hospitality's new casual-dining concept focused on "colossally good sliders, noshes and brews," wasn't created to inspire snacking per se. But it's turned out to be well positioned for it.
"The concept is so new. We're still playing around with the menu," said Brad Hofman, president of Hofman Hospitality. "If we see people looking for snacks, we'll begin maybe creating unique items just for it."
Built around sliders and rollers, or mini hot dogs, as well as snack-type foods such as wings and smothered French fries, the family-friendly menu encourages diners to create their own combo meals by picking two or three small items with the option to add fries. Customers can also order individual sides or main dishes, such as salads or flatbread pizzas.
Other opportunities for snacking at Mighty Kitchen include the restaurant's Power Hour, a twist on happy hour featuring a variety of small bites — some from the main menu, others unique — craft cocktails, brews and wines and offered Monday through Friday, from 3 p.m. to 6 p.m., and every night from 9 p.m. to close.
"I think we're all in the same boat, looking for any growth opportunities we can find," Hofman said. "We like that there is this vision of flexibility."
Source: NRN.com