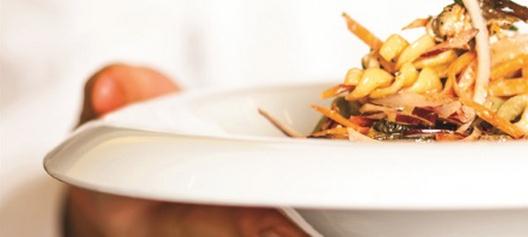 How do you prevent top talent from jumping ship? As employees gather on-the-job training and operational knowledge, they become ideal candidates for more senior positions. Make sure those positions are within your restaurant by offering clear steps to advancement.
About one in five restaurant job openings in 2016 were filled by people promoted from other jobs within the same restaurant business, our new State of the Industry shows. The stats are similar for all five major segments, with family- and casual dining slightly ahead.
The report, which is free for the first time to National Restaurant Association members, includes a workforce outlook, sales and economic forecasts, consumer expectations, menu trends and more. The workforce outlook examines turnover trends, job growth projections and staffing challenges.
Some of your colleagues are tackling those challenges by helping employees rise through the ranks. Here are 11 ways to help star talent move up – and keep your most valuable employees:
Start with a roadmap.
Perkins Restaurant & Bakery lay outs each step for advancement at orientation, including technical and soft skills. Training pathways are designed into hourly training materials to facilitate cross-training and lay out the knowledge and skills required. Supervisors use those and other tools to tell the story, engage team members and answer questions. A bus person can see the roadmap to become a server, a dishwasher to lead cook, to certified trainer. "You get to be the driver," says Donna Herbel, director, training and development. "If you're off track someone will help you get back."
Outline career paths.
Hooter's of America has formal roadmaps for every position. The 194-location company outlines what its 10,000 employees need to do to become certified trainers, kitchen managers or area coaches, as well as be part of the crew that opens new stores. For example, to become a certified trainer, a team member must train a certain number of new hires and score high feedback on the training.
Create progress logs.
Chicago-based Naf Naf Grill guides its hourly and management employees' career paths through training and development by charting employees' progress as they learn new skills, says human resources director Loni Shuftan. "It's somewhat self-driven. You can go through as quickly or slowly as you want, with support from management." The company's motto: "We help make people successful."
For back of the house, Naf Naf's career paths show how employees can work their way up from hourly bakery positions to managing a store's culinary aspects. Front-of-the-house-paths show what line employees need to do to become line captains or cashiers. Eventually, both paths show the way to management. "Our crew members are our future leaders," Shuftan says. "They're always the first people we look at for new GMs, whether it's turnover or a new store."
About 95 percent of Naf Naf's managers have been promoted from within, Shuftan says. Under the company's aggressive growth plan to open 150 stores in five years, it will have more opportunities for GMs, district managers and market managers, she says. "We want people to home in on their skills and work hard to develop to the next level."
Let superstars guide the way.
Promote high-performing hourly employees to trainers/mentors, giving them a chance to develop leadership skills while guiding newbies. At The Common Man restaurants, server-mentors train new servers, then coach them for several months. "The mentors are on the floor working elbow to elbow with the team," training director Cindy Bates says. "They are there to give gentle reminders."
Be sure to train the trainers for that responsibility. It grooms them for leadership and promotes consistent operations. "Inconsistencies used to be one of the biggest frustrations for our new hires," Bates says.
Develop stepping-stone positions.
Offer opportunities for qualified team members to gradually take on more responsibilities and develop confidence. For example, a standout server at Shari's Café and Pies might get promoted to a trainer, next to a shift supervisor, then to assistant manager and eventually to general manager. Keep in mind that everyone progresses at his or her own pace, says Vickie Irish, vice president of training and human resources. Some parents ask to remain as shift supervisors when their children are young and advance once their schedule permits. In multi-unit operations, GMs can rise to become district managers, regional directors, vice presidents ? or even CEO.
Create an internal certification program.
Eat'n Park Hospitality Group offers onsite classes and activities to help hourly employees become shift supervisors or assistant managers. For example, participants might work on leadership skills, such as handling difficult guests or employees, with their managers. After they're certified, they can supervise a few people on a light shift, such as the midnight shift at a 24-hour location.
"We give a lot of people their first leadership experience," says Karen Bolden, senior vice president and chief people officer. "How many other college kids have supervised people? If you have worked as a shift supervisor or assistant manager and decide this isn't really what you want to do long-term, you've got your mini MBA."
Celebrate promotions.
Naf Naf's multi-unit managers show up unannounced at a shift meeting, bearing doughnuts and heaping praise for promotions to management. For Chicago stores, the entire corporate office comes, too. The new managers share their stories and how they got to where they are, Shuftan says. Often, they say, "I couldn't have gotten here if it weren't for my team."
Use it as a recruiting tool.
Perkins promotes its success stories and career paths in its recruitment process, pointing out that 60 to 70 percent of managers were promoted from hourly roles. "When people are looking for a company to work for, which is different from looking for a job, they want to work where someone is engaged with them, where they can make a difference," Herbel says. Millennials especially want to know that companies are willing to invest in them, and that a job is simply more than paycheck, she says.
Set training targets.
Habit Burger's Ladder Program establishes several levels of training and development for cooks, cashiers and managers. Cooks complete seven levels; cashiers, three; managers, four. Cooks and cashiers should complete the first level within 30 days of hire day and the next level within 90 days, but they can move at a faster or slower pace, according to their needs. Each time they move up a level, they receive a pay increase. As they learn new skills, they keep moving up, says training and development director Michele Lange. Each quarter, every store selects at least six employees to be trained to reach their next level.
The clearly defined career paths and training targets show employees that the company cares for them and helps boost morale, she says.
Tie training to manager bonuses.
The biggest component of Habit Burger's manager bonus – 30 percent -- is how well they develop their teams. "On any day, you should see some sort of training going on," Lange says. "We put a lot of emphasis on constantly training team members." Lange's department conducts training audits to ensure managers are conducting performance tests and not just signing off. Managers and employees understand that the more training team members have, the better it is for the restaurant.
Ensure open communication lines.
Habit Burger managers regularly schedule brief, individual meetings with all team members. They use the meetings as coaching moments, to give praise or open a line of communication. Managers also have one-on-one meetings with their supervisors. "We take that time to really get time to get to know our team members and how they're doing in their development," Lange says.
Source: NRA.com