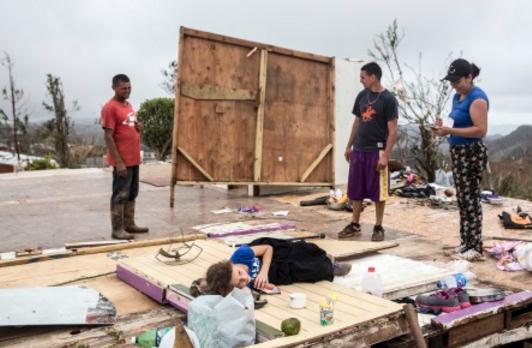 Young girl rests on what is left of her family's home after Hurricane Maria
Puerto Rico is beginning the uphill battle of recovering after Hurricane Maria slammed into the battered island Sept. 19.
About 97 percent of Puerto Rico's 3.4 million residents are still without power and about half of them do not have running water, according to published reports.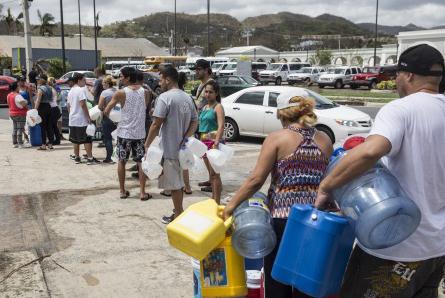 Survivors wait in line for drinking water. More than half of all residents have no running water.
The Category 4 storm knocked out all power, toppled cell phone towers and ripped off the roofs of homes and businesses. Several restaurant and hospitality companies, including Dunkin' Brands, Starbucks,Subway and Marriott International, operate on the island. They are currently working to assess the situation.
According to Marriott, officials at its San Juan property instructed guests to line the stairwells of the hotel and ride out the storm there. All guests and associates were accounted for, the company said, and no injuries were reported. The facility did lose its power and has been using backup generators ever since. It added that some of its hotels sustained damage, but efforts are underway to restore operations.
In a prepared statement, the company said its thoughts and prayers were with everyone affected by the storm. "We express our appreciation for the efforts of local police, emergency responders and other officials supporting the affected communities."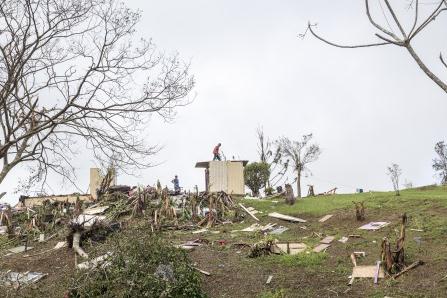 Hurricane Maria was one of the strongest storms to hit Puerto Rico in nearly 100 years.
Seattle-based Starbucks, which employees 462 people at 24 franchised stores in Puerto Rico, said most of its locations there are closed. It added that it is donating $250,000 to recovery and rebuilding efforts on the island. The company also said its customers could make donations through the Starbucks app that benefit the Center for Disaster Philanthropy.
Dunkin' Brands, the Canton, Mass.-based parent of Dunkin' Donuts and the Baskin-Robbins ice-cream chain, said its local franchisee in Puerto Rico, which owns and operates 21 locations on the island, had to close operations temporarily. "Our first priority is our franchisees, crew members and their guests, who were in the storm's path," the company said, adding that its franchisee is assessing the situation, and that the company would work with the franchisee to "help reopen the shops when feasible."
Dunkin' also said it is making a $25,000 donation to the American Red Cross to support relief efforts in Puerto Rico.
In an email exchange with us, Gadiel Lebrón, executive director of the Puerto Rico Restaurant Association, said restaurants on the island have limited access to the gasoline and diesel fuel that power their generators, are without internet, voice or data service, and are working under a curfew. Still, he noted, everyone is working together to begin the recovery process.
"We are standing up," he wrote. "As we write to you, we are working to lift ourselves up stronger than before. But we need some help."
Because of the widespread damage caused by this hurricane, many of our partners are still assessing the situation and determining how we can all help its victims. We will continue to share updates as news becomes available.
Source: NRA.com